The Advantages and Characteristics of Sertag Retail Electronic Shelf Label
Sertag electronic shelf labels are mainly used in the field of supermarkets for price management and rapid price changes. Through five years of continuous product function improvement and stable product quality, it has won the trust of customers at home and abroad. The advantages of Sertag supermarket electronic shelf labels are as follows:

(1) The price change speed is fast, the accuracy rate is high, and a lot of labor costs are saved. For example, when a product is being promoted, more people are not required to participate in changing the price, only one staff member is required to operate, and thousands of products can also be changed in half an hour.
(2) The electronic shelf label cloud platform developed by Sertag has stable system and low maintenance cost. At the same time reduce local server hardware and reduce costs. Support single-user or multi-user centralized data management; support user local connection platform operation and maintenance; friendly interface, simple and easy to operate; a single system can support up to 9999 stores; support independent connection of each store interface; support each store template customization; Support independent management of user data in each store; independent operation of user data, data security, system stability; system security and high availability; support system localized deployment or private cloud deployment; support Windows and Linux version platform deployment;
(3) Automatic switching of display styles; Sertag electronic shelf system realizes price timing, and different price strategies are automatically displayed to improve efficiency; manage to quickly formulate and implement flexible and effective marketing activities.
(4) QR code application; dynamic QR code information is linked to e-commerce App, such as: product details, WeChat public account, loyalty points, coupon placement, product traceability...
(5) Sertag electronic shelf labels also have a user-friendly flashing light picking function. In commodity management, scanning or searching needs; commodity names or barcodes for replenishment/picking; the staff completes it according to the position of the flashing light label; greatly improves work efficiency and avoids manual errors.
(6) Sertag color electronic shelf labels, with rich template options, can realize scene diversification; automation of advertising investment; accurate interactive scenes and increase marketing revenue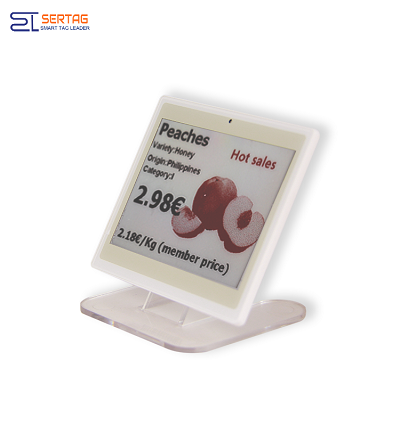 In a word, Sertag electronic shelf labels, as one of the terminals of the Internet of things in stores, can realize functions such as electronic accounts, inventory management, location services, and message push. In the era of big data marketing, Sertag electronic shelf labels and other data transmission and collection terminals have unlimited development potential. Sertag, as the world's leading provider of business intelligence solutions, will also continue to research, develop and innovate to help retailers use electronic price tags more conveniently and effectively, and give full play to its unlimited power!